The Clarity Skin Advisor System is powered with BTBP's Artificial Intelligence Engine. It is capable of performing analysis in about two minutes on skin concerns such as acne, fine lines and wrinkles, redness, roughness, visible pigmentation, sun damage and visible pores. Fully customizable to your brand's theme, this system provides automated product recommendations suitable to the client's skin condition. The Clarity Skin Advisor System is compact and makes transportation a breeze.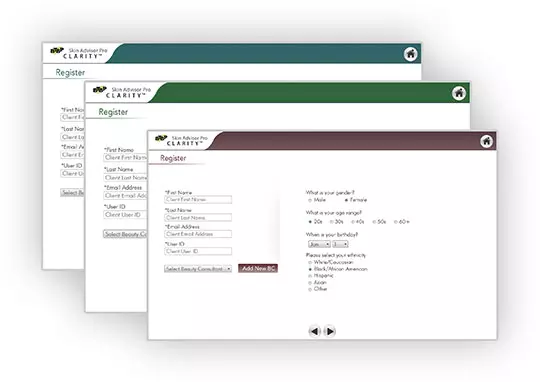 Customizable Themes
With custom design, you can personalize the look and feel of your application with color tools, custom fonts, custom theme colors and theme effects to suit your branding style.
Customizable Features
You can customize the features for analysis by including and excluding features according to your branding needs.
Clarity Business Manager (CBM)
Clarity Business Manager is more secure
Enables you to configure product recommendations by market.
Powerful data mining tools that enables you track market statistics.
Security permission configurable for multiple user accounts.
Features and severity grading are configurable by market.
---
Application Features
---
Measured Features
Severity Index: For the purpose of visual grading severity index is categorized into 5 levels
Low
Low - Moderate
Moderate
Moderate - High
High
---
Facility's Specifications
Power Specifications
System Dimensions
(l x b x h) : 15 x 21 x 20 inches
Setup counter size : 20 x 20 inches
System Weight
Lbs : 29.3 pounds
Kgs : 13.3 kgs
Shipping Requirements
Altitude: 0 to 39,370 feet (12,000 m)
Environmental Specifications
Operation temperature : 22° ± 5°C non-condensing
non-operating temperature: -40 to 50 °C non-condensing
Relative humidity (Operating) : 10 to 70% RH, non-condensing
Relative humidity (Non-Operating) : 5 to 93% RH, non-condensing
Dark room : Yes
No reflective objects in front of system : Yes
---
Brochure
Clarity Skin Advisor Brochure